Composition and Technology
The composition major is designed to welcome students who bring a range of musical backgrounds and experience to their creative work as makers of new music. We recognize that the majority of composers today come from backgrounds in a wide variety of popular genres, K-pop to hip-hop, EDM to Eminem, video games to space operas, rock to reggae, metal to Mariachi
We embrace all of these, and recognize the important cultural conversations taking place within them. We see ourselves as contributors to that dialogue.
Composition students compose works for various ensembles, including orchestra, film scores, EDM, song writing etc. We give our students the tools to hit the ground running and seize many opportunities, from creating original work, to working in recording studios, creating their own software, publishing and even creating album artwork.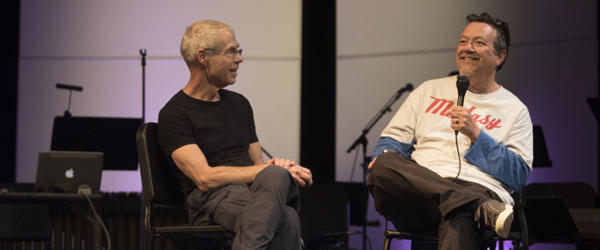 Students learn to trust their intuition, draw from the unknown, and apply structural and technical tools to realize highly personal, literate musical works.
Graduate students have opportunities to teach, and there is partial scholarship support available. We are growing the composition area and seek energetic graduate students and undergraduate students.
The music composition program at SDSU takes it's orientation from the maverick genius composer Harry Partch, whose ensemble was in residence here for several decades. We aim to be an utterly unique composition program: open, inclusive, all embracing, deep, rigorous and dynamic, the best composition program in the country, on our own terms.
Additional Resources
Audition Requirements:
Undergraduate deadline to turn in materials is February 15. The Graduate Deadline to turn in materials is also February 15.
**All printed materials (scores, music excerpts, recommendations, and grade transcripts etc.) need to be submitted via PDF format, all audio recordings need to be submitted via a link to BandCamp, SoundCloud, DropBox, Drive, YouTube, etc.**
Reproduce four one-page music excerpts with professional notation software, to demonstrate your notation abilities. (Please send an email to [email protected] to request excerpts and instructions.)
Performance audition: we want to hear you play to get a sense of your musicality. Do not sign up for a live audition. Instead, please record a short video of you performing, and provide a link to the performance via YouTube. Instruments may include traditional classical instruments such as clarinet as well as other cultures: tabla, berimbau, dumbek etc., and pop instruments such as turntables, electric guitar, laptop etc. Repertoire can be anything: original, improvised, scored, cover, in any genre.
Three letters of recommendation from qualified professionals.
Unofficial grade transcripts from past 4 years of education.
Statement of purpose - a 2-3 page essay on your musical vision, life and career goals and preparations.
A written statement on your music-reading ability.
A statement on the technical, software, hardware and recording equipment and software used to create your composition portfolio.
Audio recordings, and printed scores (if available) of 2 - 4 original works. (printed scores are not required, but highly recommended)

The major is extremely competitive - compile your materials as if this was the ultimate dream job. They should be excellent and professional and demonstrate your interest and respect.
Summer preparatory projects:
If you are accepted you will be required to complete 3 preparatory projects in the summer before school starts:
You will be given a list of classical and world masterpieces to become intimately familiar with—you will need to put these on your iPod and listen to them everyday.
You will need to learn to write a 2 Part Invention in the style of Bach (You can buy Kent Kennan's Counterpoint book to guide you);
You will need to complete the Eastman School of Music E-Music "Music Theory Fundamentals in 4 Weeks" course

All composition majors are expected to maintain at least a 3.75 GPA This major prepares students to have a good chance of success, whether in the best graduate programs or in the music industry.
The electronic music studio is a continually upgraded, full-featured facility for the study of sound design, audio production and integration with video. All workstations are Macintosh powered and feature Pro-Tools capability.
Design Philosophy: provide students access to a pro-level facility for composition, recording and sound design with up-to-date and state-of-the-art hardware and software. The studio is available for students enrolled in the electro-acoustic composition course sequence.
Facility Description: The studio contains 4 workstations, and is connected to an isolation booth with studio drum kit, and a main recording room with Steinway 7 ft. grand piano and Internet2 high speed internet gateway for simultaneous distributed recording sessions and performances. Workstation details.
Applied Musicianship
Students will develop advanced professional competency in applied musicianship through written music theory, musical analysis, conducting, singing, and piano skills.
Aural Perception
Students will display deep proficiency in aural musicianship skills including the ability to transcribe melodies, transcribe rhythms, transcribe harmonic progressions, and to demonstrate proficiency in singing musical examples, patterns, and rhythms of advanced difficulty.
Music Technology
Students will apply, and demonstrate proficiency in current and emerging technologies used in the process of creating, analyzing, performing, and reproducing music and in reviewing or carrying out music research.
Music Literacy and Critical Thinking
Students will gain literacy and critical thinking skills by examining music literature and music research through performing, reading, researching, writing, listening, speaking, and reasoning about music. Critical thinking comprises the integration of historical and theoretical domains to identify and to solve problems within and beyond the discipline of music.
Historical and Cultural Foundations
Students will develop the capacity to situate contemporary musical experiences by interpreting a broad range of musical styles and practices from different historical eras and cultural traditions.
Performance and Creativity
Students on a performance track will perform on a primary instrument and will exemplify a high level of competence, both artistically and creatively. A similar level of artistry and creativity extends to those pursuing one of the non-performance tracks (e.g., the creation of music through our Global Composition track or other skills associated with one of our Professional Studies specializations).
Musical Leadership and Community Engagement
Students will exemplify musical competency through rehearsing and conducting SDSU ensembles, community ensembles, or public-school ensembles. Students will employ musical leadership in their participation in music organizations and through performances organized to engage the community.
Pedagogy
Students will assemble knowledge of curriculum development while also developing oral and written communication skills in order to effectively disseminate information, in a classroom setting, through various methodologies.
Synthesis
By the conclusion of undergraduate study in music, students will be able to solve musical problems by combining their capabilities associated with the learning outcomes enumerated above as appropriate to their respective area(s) of emphasis.
General Skills
All music students will hone the ability to collaborate effectively to engage in real-world problems, including academic, personal, and artistic matters. They will become independent learners, capable of accepting validation as a result of successful efforts while maintaining resilience in the face of challenges.
Upon successful completion of the degree program, students will be able to:
Develop a unique artistic trajectory and an original creative "voice."
Develop composition skills at a high level, utilizing informed stylistic choices and artistic expression.
Develop competency in textual, harmonic, and formal score analysis.
Compose original works for a variety of ensembles, ranging from classical, jazz, vernacular, electronic, and hybrid, according to the proclivities of the student.
Learn basic intellectual property law with regard to copyright for original compositions, recordings and performances.
Demonstrate knowledge of publication standards and practices for streaming media.
Develop skills for concert preparation and production.
Develop communication skills for public outreach, including press releases, concert and publication publicity.
Demonstrate deep knowledge of repertoire studied during program.
Demonstrate effective analytical and interpretative skills in music theory, musicology and/or performance practice.
Communicate an advanced understanding and evaluation of musical knowledge and ideas in written and/or oral forms.