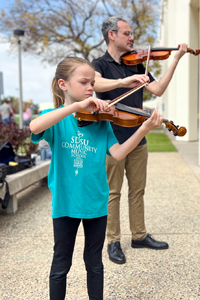 The Community Music School is part of the School of Music and Dance at SDSU and is designed to serve the needs of our community and the University. The CMS mission is to provide high quality, accessible and diverse music and dance instruction for all ages, abilities and income levels.
The CMS offers individual instruction opportunities to study most instruments as well as voice, theory, and composition.
We have master teachers who specialize both in providing the basics to beginners as well as teaching the most advanced students. Personal musical growth for all ages is our goal, as well as the achievement of musical excellence and skill necessary to enrich one's life and provide a lifetime of musical enjoyment.
For More Information, Please Contact
Carina Voly, Director
Community Music School
School of Music and Dance
San Diego State University
5500 Campanile Drive
San Diego, CA 92182-7902
Phone: 619-594-1699
Email: [email protected]