Support the Community Music School
The School of Music and Dance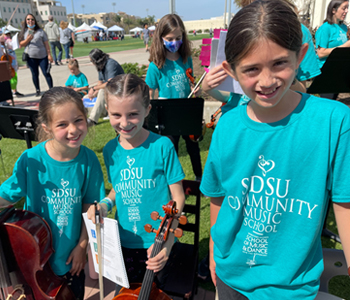 The Community Music School is grateful to its many donors, friends, and supporters who help sustain its excellent programs in music. As part of the School of Music and Dance at SDSU, it is designed to serve the needs of our community and the university by providing high quality, accessible and diverse instruction for all ages, abilities and income levels.

Under 'gift information' please select the last button and designate your gift to the SDSU Community Music School. It's easy and secure.
Matching gifts are available from many employers. Many employers sponsor matching gift programs and may double or triple any charitable contributions made by their employees. Please check with your employer for further information.
Our master teachers specialize both in providing a solid foundation to beginners as well as teaching the most advanced students in a non-degree program. Personal musical growth for all ages is our goal, as well as the achievement of musical excellence and skill necessary to enrich one's life and provide a lifetime of musical enjoyment.
As a co-curricular project within the School of Music and Dance, our programs are an integral part of the curricula of Music Education and Performance majors through teaching observations and guided participation in CMS classes and lessons.
How can you support our efforts? The following list provides an overview:
Scholarships for underserved students and families
Funding to hire and train college students who serve as collaborative pianists in the program
Funding for special events that benefit both CMS students and students in the SDSU School of Music and Dance (masterclasses, concerts with guest artists, and more)
---
For information about specific program needs please contact the Director of the Community Music School:
Carina Voly, Director
Community Music School
School of Music and Dance
San Diego State University
5500 Campanile Drive
San Diego, CA 92182-4512
Phone: 619-594-9640
Email: [email protected]
---
For additional information about giving to SDSU CMS, including information about bequests, planned gifts, pledge gifts etc., please contact:
Elise Moersch, EdD
Director of Development
College of Professional Studies and Fine Arts
San Diego State University
5500 Campanile Drive
San Diego, CA 92182-4512

Phone: 619-594-9640
Email: [email protected]