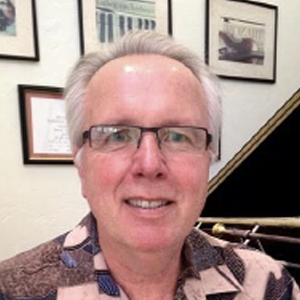 Bill Yeager
Emeritus Professor of Music
Bill Yeager Jazz Orchestra (BYJO) in residence at SDSU
San Diego
Bio
Bill Yeager has a diverse musical background, both as a performer, composer/arranger and educator. He is a Professor of Music and Director of Jazz Studies at San Diego State University and is a well-known studio/jazz/classical trombonist performing on hundreds of records, films, TV shows and commercials. In 2016-17, he received the "Monty Award" for outstanding professor from PSFA and gave the 2017 Commencement address. He was also inducted into the 2017 "California Alliance for Jazz Hall of Fame" (the first ever from SDSU). Also in 2017, he was invited by the German government to represent the United States as part of their Vistors Programme of the Federal Government on the subject "The German Jazz Music Scene – Jazz aus Deutschland."
Bill has performed with such artists as Frank Sinatra, Ella Fitzgerald, Tony Bennett, Sarah Vaughn, Doc Severinsen, Mel Torme, Natalie Cole and Dizzy Gillespie, to name a few, and has toured throughout the world including Europe, Russia, Armenia, Japan, Thailand, Bolivia and Mexico, besides the U.S. and Canada. He has played on hundreds of motion pictures like the "Rocky" movies, TV shows like "Bob Hope" and "Hawaii Five-O", and records with the likes of Ray Charles.
Before coming to San Diego, Professor Yeager was founder/director of the highly acclaimed Los Angeles Jazz Workshop where he recorded three very successful albums and received a Grammy nomination. Former members of the LAJW now rank as some of the top professional musicians and educators nationally and internationally and some have been guest artists/clinicians at SDSU. Bill has played in practically every big band in the L.A./San Diego area including long time associations with Louie Bellson and Les Brown who have donated their entire musical libraries to him. Professor Yeager has donated his vast library of thousands of musical scores to SDSU.
Since coming to San Diego State University, he has built one of the largest and respected jazz programs in California, offering both a Bachelor and Master's degree in Jazz Studies. His groups are considered some of the best in the United States. His SDSU Jazz Ensemble #1 has won the National Collegiate Jazz Competition in Orlando, FL and has been featured at the Monterey Jazz Festival at Sea, Hawaii International Jazz Festival, Ensenada Jazz Festival, the North Sea Jazz Festival (Holland), Montreux Jazz Festival and Lido Bien Jazz Festival (Switzerland), as well as numerous first place awards. His groups have performed throughout the U.S., Europe, Taiwan, Bolivia, and Mexico. They have recorded six videos and seven CD's including its newest, "Jazztecs," featuring about one hundred SDSU students. The video of its making is included on the "Jazz Studies Program" Quick Link page on this website.
Bill's enthusiasm, musical expertise, and his love for the jazz art form have made him a much sought after clinician and performer at college and high school festivals across the country. He has conducted many All-State Honor Groups. Bill has been a member of the Westwind Brass, one of the top brass quintets in the U.S. in which he is featured on two recordings. Bill received his Bachelor and Master of Music degrees from the University of North Texas where he was lead trombone in the famous One O'clock Lab Band.
Bill Yeager - "Monty" Award Video
2017 Commencement Address