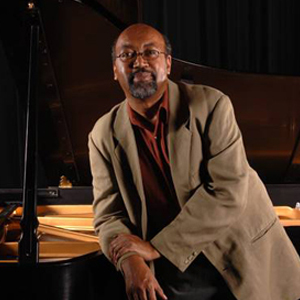 Richard Thompson
Associate Professor Emeritus of Music, Jazz Studies, Piano
San Diego
Bio
Richard Thompson is a performer and composer whose work resists a single stylistic category. His compositions combine European and African-American styles, so that the formal structures of European classical music develop ideas, which are essentially jazz in nature. Originally from Aberdeen, Scotland, Mr. Thompson made his debut at the Purcell Room, in the Royal Festival Hall in London. He has appeared in live broadcasts for B.B.C. Jazz and Classical Radio, Italian National Television and Radio and also given concerts at La Piccola Scala in Milan, among many others. His orchestral appearances include The Harlem Festival Orchestra, The Boston Orchestra and Chorale, The Glasgow Chamber Orchestra and The Aberdeen Chamber Orchestra.
In 1999 Mr. Thompson was awarded the first Individual Artist Award for classical music composition from The Brooklyn Arts Council. The winning piece, Legend Of The Moors, is a musical depiction of the presence and influence of the Moors in Spain during the Middle Ages. The piece was premiered at The Brooklyn Conservatory in 1999. In 2000 he premiered an orchestral piece entitled Voices with the Long Island Sound Symphony Orchestra under Dorothy Savitch. A discussion of some of his compositions appears in the 1998 textbook entitled, "African-American Music, An Introduction" by Dr. Earl Stewart, published by Simon and Schuster Macmillan/Prentice Hall International.
In 1997 Mr. Thompson received a grant from Meet The Composer, to perform his works at a local Arts Festival in Brooklyn. He was the pianist of the Frank Lacy Quartet for a number of performances in Manhattan. He substituted for Geri Allen in an Off-Broadway production entitled "In Walks Bud", performing on stage in the styles of Thelonious Monk and Bud Powell. Mr. Thompson's composition and recording credits include recording some of Graeme Revell's music for Wayne Wang's film entitled "Chinese Box", composing and recording music for a Columbia Tristar film, entitled "Love Walked In" and co-writing the score for an independent feature entitled "Dogs The Rise and Fall Of An All Girl Bookie Joint" by Eve Annenberg. He has also recorded music for the independent film, "Girlfight".
The Manhattan Chamber Orchestra under the direction of Richard Auldon Clark, with Christine Moore, soprano, gave the world premiere performance in 2000 of Mr. Thompson's song cycle The Shadow of Dawn at Merkin Hall, New York City. The inspiration for this work was the work of African American poet, Paul Laurence Dunbar. This cycle is published by M.M.B.Music of St. Louis.
Richard Thompson's CD, Poetry Prelude, of original compositions, was released in March 2006, on the Visionary Records label, distributed by Albany Records. The CD includes his two song cycles to the poetry of Langston Hughes and Paul Laurence Dunbar, Six Preludes for Piano Solo and a jazz quartet arrangement of the Spiritual, Wade in the Water.
In summer 2006 he recorded, with his New York jazz group, Mirage, a CD of arrangements of Spirituals, entitled Swing Low, Sweet Chariot. He is currently working on a chamber opera, The Mask in the Mirror which deals with the courtship and marriage of poet Paul Laurence Dunbar to Alice Ruth Moore.
Mr. Thompson is currently Associate Professor of Music at San Diego State University, where he teaches jazz performance and history. He performs frequently in both jazz and classical concerts, as a soloist and many chamber groups, including his own jazz quartet, entitled Mirage.
He earned his undergraduate degree in music from the University of Edinburgh, Scotland. His Masters Degree is from Rutgers University in New Jersey. At Rutgers University he studied jazz piano with Kenny Barron and classical piano with Theodore Lettvin. He also holds a jazz diploma from The Berklee College of Music in Boston.
Audio samples from Poetry Prelude (Albany Records):