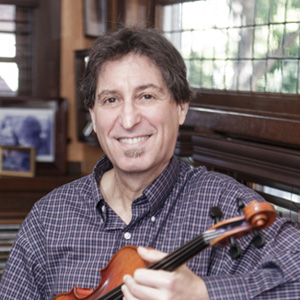 Yale Strom
Lecturer: Music
San Diego
Bio
Yale Strom (violin) is one of the world's leading ethnographer-artists of klezmer and Romani music and history. He has done extensive ethnographic research in Eastern Europe. His findings were instrumental in forming the repertoire of his klezmer band, Hot Pstromi, based in New York and San Diego. Since organizing his band in 1981, he has composed original New Jewish music that combines klezmer with Khasidic melodies, as well as Romani, jazz, classical, Bluegrass, Balkan, Arabic and Sephardic motifs. Strom's compositions range from several quartets to a full symphony. His classical works are distributed by Donemus Publishers in The Hague, Netherlands. These works have been performed by the St. Louis Symphony Orchestra, San Diego Chamber Orchestra, San Diego Ballet, Malashock Dance Company, Hausmann Quartet, Art of Elan, Burdick-Thorne String Quartet, Rachel Barton Pine, Mike Block, Bordeaux Philharmonic, the Ostrava Philharmonic of the Czech Republic, and others. In addition, he has composed original music for theatre, film and television. Yale's fifteen CDs run the gamut from traditional klezmer to "new" Jewish jazz. His CD's are on the Naxos, Transcontinental Music and ARC UK labels. His latest CD is "Yale Strom's Broken Consort: Shimmering Lights." As a collaborator, Strom has had numerous world-renowned partners performing from Carnegie Hall to the United Nations General Assembly to the Kennedy Center, with such artists as: Andy Statman, Mark Dresser, Bert Turetzsky, Marty Ehrlich, Alicia Svigals, Joel Rubin, Hankus Netsky, Peter Sprague, Tripp Sprague, Fred Benedetti, Mike Block, Bruce Molsky, Samir Chatterjee, Salman Ahmad, Muszikas, Marta Sebastyen, Damian Draghici, Sara Caswell, Gilbert Castellanos, and Kalman Balogh and many others.
Strom has also directed nine award-winning documentary films, written fourteen books (including his Yiddish/English children's illustrated book Shloyml Boyml and His Lucky Dreydl) and two audio dramas. The latest audio drama is Debs in Canton starring Phil Proctor. Strom is currently working on a doc. film about the audiophile/ethnomusicologist Lou Curtiss who lived and worked in San Diego. Currently, Strom is developing a musical about the life of artist Marc Chagall with the San Diego Repertory Theatre.
Strom was artist-in-residence in the Jewish Studies Program at San Diego State University, a position created for him 2006 – 2020. Currently he teaches in SDSU's School of Music and Dance. Prior to this, he taught at New York University.