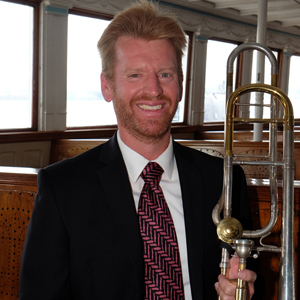 Dr. Eric Starr
Lecturer: Brass Chamber Music
Internship Coordinator
San Diego
Bio
Dr. Eric Starr leads a multi-faceted career as Studio Artist Teacher, Lecturer of Music, Internship Coordinator, and Faculty Advisor of the Aztec Music Group at the SDSU School of Music and Dance. In 2018, he was named "Most Influential Faculty". Off campus, Dr. Starr is Trombonist for Westwind Brass, Executive Director for San Diego New Music (501c3), Secretary of the Board of Trustees of Arts for Learning San Diego and a Community Engagement Partner with Art of Élan.
A frequent recitalist and chamber musician, Dr. Starr has been described as a "Trombone Champion" with "Stunning Style" (SD Union Tribune). He has performed as soloist with the SDSU Symphony Orchestra and Wind Symphony, the UCSD Wind Ensemble, the San Diego Symphony's Art Connection, Art of Élan, the International Trombone Festival and at venues such as the Spreckels Organ Pavilion in Balboa Park, and the Athenaeum Music & Arts Library in La Jolla. National and International performances include the Ojai Music Festival, the Bang On a Can Marathon, La Paz Conservatory of Music (MX), Casa de la Cultura Mexicali, April in Santa Cruz, the Peabody Institute, the University of Cincinnati-College Conservatory of Music, Cornelia St Café (NYC) and the Ventura Chamber Music Festival.
As an orchestral musician, Dr. Starr has performed with the San Diego Symphony, Pacific Symphony, San Diego Opera, San Diego Winds, Broadway San Diego, La Jolla Symphony, City Music Cleveland and the Orquesta Sinfonica UANL in Monterrey, Mexico. He can be heard on recordings for Westwind Brass, Bluegriffin Records, Dimension Films, the San Diego Symphony, the San Diego Zoo, City Music Cleveland, Titicacaman Records and Super Bowl XXXIII.
As a champion of contemporary music, Dr. Starr enjoys working with living composers and crafting seemingly strange notation and sounds into works of musical art. He has premiered dozens of works collaborated with composers Anahita Abbasi, John Adams, John Luther Adams, Christopher Adler, Caleb Burhans, Margaret Brouwer, Brent Dutton, David Lang, Lei Liang, Fernanda Aoki Navarro, Mark-Anthony Turnage, and Chou Wen-Chung. Eric has performed with groups including the International Contemporary Ensemble, Alarm Will Sound, San Diego New Music, Palimpsest, Renga, the soundON Festival, Prisms Festival and Kallisti.
Growing up working on his family farm in northern California, Sierra Starr Vineyards, Eric was inspired to leave the farming business but continued to work hard in the field of his passion. He went on to study trombone with Steven Witser, Rick Stout, Michael Powell and Terry Cravens, earning a Bachelor of Music degree at the University of Southern California, a Master of Music and Artist Diploma at the Cleveland Institute of Music and a Doctor of Musical Arts at Stony Brook University with additional studies at the Aspen Music Festival, Tanglewood Music Center, and Music Masters Course in Kazusa, Japan. Eric lives in Ocean Beach with his wife, Sarah, where he watches the waves daily, and is becoming a better cook while continuing his interests in fine wines and bodysurfing.
Education
Doctor of Musical Arts, State University of NY, Stony Brook
Artist Diploma, Cleveland Institute of Music
Master of Music, Cleveland Institute of Music
Bachelor of Music, University of Southern California