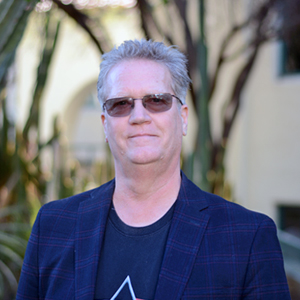 Dr. Scott Lipscomb
Professor
San Diego
Bio
Dr. Scott Lipscomb is a Professor in the School of Music and Dance. Dr. Lipscomb has had the privilege of serving as a faculty member (and administrator, in most cases) at The University of Texas at San Antonio (1995-2001), Northwestern University (2001-2006), the University of Minnesota—Twin Cities (2006-2016), the College-Conservatory of Music (CCM) at the University of Cincinnati (2016-2018), and San Diego State University (2018-present). During his first three years at SDSU, prior to returning to an instructional role, Dr. Lipscomb served as Director of the School of Music and Dance, after having served in administrative roles at UTSA (Assistant Director, Division of Music, & Interim Director, SDSU Teaching & Learning Center), the U of MN (Division Head, Music Education and Music Therapy; Associate Director; & Interim Director), and at CCM (Associate Dean).
Dr. Lipscomb's primary areas of research include music perception, multimedia cognition, the incorporation of music across the K-12 curriculum, learning as it occurs in video gaming contexts (how can we make academic learning just as addictive?), and the facilitation of music learning through technology, along with interactive instructional media development, sound for multimedia, and website design. A frequent presenter at regional, national, and international conferences, he is editor of the Journal of Technology in Music Learning, and his research has been published in numerous peer-reviewed journals and edited volumes. Dr. Lipscomb is past-President for the Association for Technology in Music Instruction, and he has served on the boards of the Society for Music Perception & Cognition and the Technology Institute for Music Educators, while also chairing the Technology Institute for Music Educators' research committee.
Lipscomb earned his B.M. in Jazz Performance (electric and acoustic bass) at University of Tennessee, Knoxville (mentors: Jerry Coker & Rusty Holloway), and his M.A. and Ph.D. in Systematic Musicology at University of California, Los Angeles (mentor: Dr. Roger Kendall).
Education
B.M., 1983; Jazz Performance; University of Tennessee, Knoxville
M.A., 1990; Systematic Musicology; University of California, Los Angeles
Ph.D., 1995; Systematic Musicology; University of California, Los Angeles