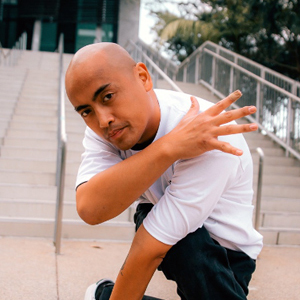 Joseph Corrales
Dance Lecturer
San Diego
Bio
Since 2000 Joseph "Dyno Rock" Corrales' life has revolved around the culture of Hip Hop. His journey into the culture started out as breakin' in the garage with a few friends and attending a few underground Hip Hop functions. What began as something that he loved doing as a youth would later become something that has taken him around the world from teaching workshops, creating youth programs, judging competitions, performing (KRS ONE tour), hosting community events, organizing Hip Hop jams/battles, representing in battles, and rocking cyphers all around the globe - with my crew CYPHERST8.
From its birth on August 11, 1973, Hip Hop Culture has continued to be a powerful Afrocentric movement that has promoted positivity & power to the people all around the world among folks from all walks of life. Corrales believes it is his responsibility to protect its integrity and help guide students in the right direction of stepping into a vibrant Culture. For him, teaching is not a profession but rather a cultural responsibility of passing down stories and knowledge from mentors/elders who have done the same.
In 2005 Corrales was introduced to the Universal Zulu Nation (grassroots Hip Hop organization est. in 1973) by DJ SURE 163 (Super B-Beat Boys) where he learned about the community aspect of hip hop culture. In the same year, he had his first experience meeting a Hip Hop Professor in a university setting (Bboy House, Arizona State University / Furious Styles Crew). In 2012 Corrales received a B.A. in Sociology from SDSU which has aided the development of his critical framework. In 2013 he moved to the Bay Area to learn more about Hip Hop Culture as a form/tool of Social Justice born out of the Black Power movement. He attended San Francisco State University to earn a Certificate in Nonprofit Management. Corrales then moved back to San Diego in 2016 where he has been actively involved in the San Diego Hip Hop Community, which encompasses all elements of the culture: style writing (visual), DJing (music), emceeing (street poetry), and dance. In the years following, he has accomplished his goals in the battle scene (1st Place Footwork Master - Massive Monkees Day 2019 in Seattle, WA) as well as elevating his path as a teaching artist. As a teacher, he looks forward to the many experiences we will collectively create, "Cypher Never Ends." Dyno (of CYPHERST8)
Currently, Sherwood serves as Assistant Professor of Voice and Vocal Area Coordinator on the faculty of San Diego State University's School of Music and Dance. His students have been accepted to leading graduate programs as well as won regional and district competitions. In addition, Sherwood frequently leads masterclasses as well as lectures and presents on the subjects of artistic literacy, student-centered pedagogy, voice pedagogy, and vocal literature. Sherwood previously served on the faculties of Fullerton Junior College, Mahidol University, and Eastern New Mexico University.
Interests
•Cypherst8
•SD Imperials
•United Hip Hop Vanguard
•Hip Hop 4 Liberation (CAAYCE)
•Asian Solidarity Collective
Research
The Sociology of Hip Hop Culture
•Hip Hop Culture: Resistance & Solidarity (active documentary project)