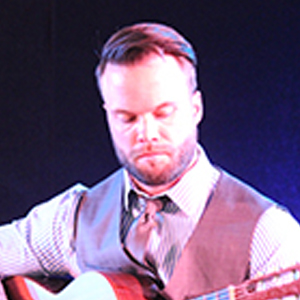 Mr. Sean Bassett
Guitar Area Coordinator, Lecturer
Ensemble Director, Private Studio Instructor
San Diego
Bio
Sean Bassett is a Southern California native who began playing guitar in his early teens. Originally inspired by bands like Metallica and Iron Maiden, he migrated to the electric guitar during his formative years. At San Diego State University he was introduced to a wide range of musical forms and undertook studies in the Classical Guitar. Sean graduated Cum Laude from SDSU where he earned a Bachelor of Music in Classical Guitar Performance and a Bachelor of Science in Business Administration as a Management Major. He also was invited to join three honors societies: Phi Beta Kappa, Phi Eta Sigma, and The Golden Key. In 2012 Sean completed his studies at the prestigious San Francisco Conservatory of Music where he earned a Master of Music in Classical Guitar. Sean's educational pursuits have allowed him the opportunity of studying with accomplished musicians such as The Katona Twins, Fred Benedetti, Lawrence Ferrara, David Tanenbaum, Marc Teicholz, Robert Wetzel, and Richard Savino. Sean is currently enrolled in a Doctorate of Musical Arts program at Boston University where he is preparing a dissertation based on formal and informal learning practices as applied to the modern music classroom.
Sean began performing professionally in his teens as the guitarist and lead singer for the heavy metal band Eradicate. Currently, he performs with alongside his twin in a guitar duo called The Bassett Bros. The duo's diverse repertoire includes music from the Renaissance, Baroque, and Classical eras and spans to more contemporary genres like Rock, Blues, and Heavy Metal. Not afraid to mix and match varied styles, their programs often include unique interpretations of concert hall classics alongside arrangements of popular music. The duo has performed for a wide variety of audiences in concert venues, schools, libraries, churches, fairs, outreach programs, veterans centers, and private events. The Bassett Bros. have also performed well recognized concertos such as "Concierto Madrigal" by Joaquin Rodrigo and "Concerto in G Major" by Antonio Vivaldi. The Bassett Bros. have also performed with the SWARMIUS ensemble, a group which combines many eclectic musical traditions while keeping its compositional footing firmly in the present day. As a soloist, Sean has performed with the Classics Philharmonic Orchestra.
Sean teaches Guitar Ensemble, Guitar Methods, Guitar Forum, Aural Skills, Composition Technology, and Private Studio Instruction in Classical Guitar at SDSU. Aside from teaching students in the degree program, Sean also teaches guitar students of the SDSU Community Music School.
On the rare occasion where Sean can be found without a guitar in his hand, he enjoys reading comic books, surfing, cooking, exercising, and traveling with his dog.
Courses
MUS 105: Introduction to the Elements of Music (Offered Spring only)
MUS 106A: Introduction to Aural Skills (offered Fall only)
MUS 106B: Aural Skills II (offered Spring only)
MUS 204: Composition Technology (offered Spring only)
MUS 218: Guitar Methods (offered Spring only)
MUS 170G, 370G, & 570G: Guitar Ensemble
MUS 250, 450: Performance Major Studies: Classical Guitar
MUS 251, 451: Performance Studies: Classical Guitar
MUS 516: Guitar Forum (offered Fall only)
MUS 651: Advanced Performance Studies: Classical Guitar
Education
[In Progress - ABD] DMA, Boston University, MA
MM, San Francisco Conservatory of Music, CA
BM, San Diego State University, CA
BS, San Diego State University, CA